Outdoor Living
Disclaimer: Product pictured may not look exactly the same as the actual product.

Fire Pit
Add some warmth and decoration to your porch, deck, patio or any outdoor area. Customize your fire pit with the dimensions that best suit your area.
Price: Call for pricing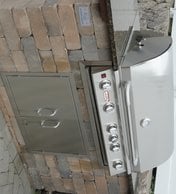 Bull Outdoor Living Grill
The Bull Grill comes in stainless steel with zinc knobs and a thermometer. In addition to a luxurious look, this grill features porcelain coated burners and a warming rack.
Price: Call for pricing
Smokin Brothers Grills
Smokin Brothers have designed these grills to take your grilling to a new level, whether it is for family BBQs in the back yard, competitions, or anything in between. Smokin Brothers Wood Pellet Grills are manufactured and assembled in Southeast Missouri, and are designed to give you consistent cooking every time. Our grills cook with indirect heat, preventing flare ups. Each grill comes complete with a drip pan to catch the grease and convection fan to circulate air around the food, eliminating the need for a rotisserie. The digital thermostat control maintains a constant temperature from 180 to 375 degrees and a high setting for temperatures above 400. Simply plug in your Smokin Brothers grill and set it to 180 to start. After lighting, set your temperature as needed and let the grill do the rest. In 10 to 15 minutes you are ready to begin your BBQ masterpiece.
Price: Call for pricing